Brand Name:Aotsr
Origin:CN(Origin)
Din:One Din
Certification:CE
Display Size:12.3
Display Size:
Out Power:4*45W
Max External Memory:128G
Operating System:Android 12 OS
Digital Media Format:Mp3
Digital Media Format:Mp4
Digital Media Format:JPEG
RAM:4G
Material Type:ABS
TF/Micro SD Slot:2
Resolution:1920*720
Item Weight:4kg
Special Features:bluetooth
Special Features:MP3 Players
Special Features:Radio Tuner
Special Features:Touch Screen
Special Feature:Built-In Speaker/Microphone
Special Feature:Wifi Function
Special Feature:Support Steering Wheel Control
Special Feature:Support 3G Network
Special Feature:Support 4G Network
Special Feature:Support Can-Bus
For Vehicle Brands/Model:Mercedes-Benz
Mercedes-Benz Model:C200
Voltage:12V
Item Size:12.3 inch
ROM:16G
Model Name:AL-8217
Interface:RCA
OSD Language:Chinese (Simplified)
OSD Language:Chinese (Traditional)
OSD Language:Albanian
OSD Language:Arabic
OSD Language:Azeri
OSD Language:Irish
OSD Language:Estonian
OSD Language:Belarusian
OSD Language:Bulgarian
OSD Language:Icelandic
OSD Language:POLISH
OSD Language:Persian
OSD Language:Boolean text (Dutch South Africa)
OSD Language:Danish
OSD Language:German
OSD Language:Russian
OSD Language:French
OSD Language:Filipino
OSD Language:Finnish
OSD Language:Georgian
OSD Language:Haitian Creole
OSD Language:Korean
OSD Language:Dutch
OSD Language:Galicia
OSD Language:Catalan
OSD Language:Czech
OSD Language:Croatian
OSD Language:Latin
OSD Language:Latvian
OSD Language:Lithuanian
OSD Language:Romanian
OSD Language:Maltese
OSD Language:Malay
OSD Language:Macedonian
OSD Language:Norwegian
OSD Language:Portuguese
OSD Language:Japanese
OSD Language:Swedish
OSD Language:Serbian
OSD Language:Slovak
OSD Language:Slovenian
OSD Language:Swahili
OSD Language:Thai
OSD Language:Turkish
OSD Language:Welsh
OSD Language:Ukrainian
OSD Language:Hebrew
OSD Language:Greek
OSD Language:Spain's Basque
OSD Language:Spanish
OSD Language:Hungarian
OSD Language:Armenian
OSD Language:Italian
OSD Language:Yiddish
OSD Language:Hindi
OSD Language:Urdu India
OSD Language:Indonesia
OSD Language:english
OSD Language:Vietnamese
Operating System:Android 12 System 32GB/64GB
Fits for:Mecerdes Benz C-W204 2007-2011
Internet:Support 3G/4G/Wifi
WiFi Receiver:Built-in for Mecerdes Benz C-W204 2007-2011
GPS navigation:Built-in Google Map And I Go Map
Steering wheel control:Support Original Car Functions
Mirror link function:Support
Radio Tape Recorder:Built-in for Mecerdes Benz C-W204 2007-2011
APPS:Downlad at Google Play
DSP:Support and Built-in
steering wheel control:Support
original speaker:support
original CD player:keep
original system:keep&work
original camera:support
xDrive control:support
Car radio:support
Car DVD PLAYER:support
Head unit:support
Auto stereo:support
Idrive system:support
Android system:support
Our warehouse
1. Fast shipping to your address from our RU/CZ/DF/UK/US warehouse 2. No extra VAT fees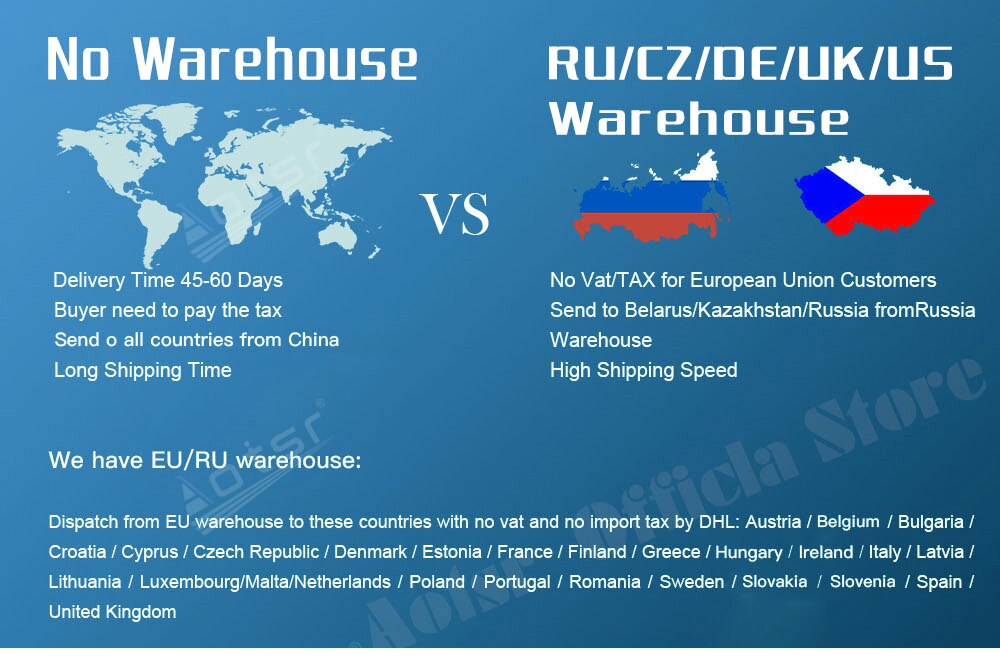 Android 12 Car GPS Navigation Auto Stereo Head Unit
For Mecerdes Benz C-W204 2007-2018 Support IDrive and Android system , you can exchange/switch this two system on this radio

Support orignial car functions
1.Support steering wheel control 2.support original speaker 3.keep original CD player 4.keep&work original system 5.compatible with original camera 6.compatible with xDrive control 7.Support Android system and Idrive system switching .Chanr to android , change to idrive at any time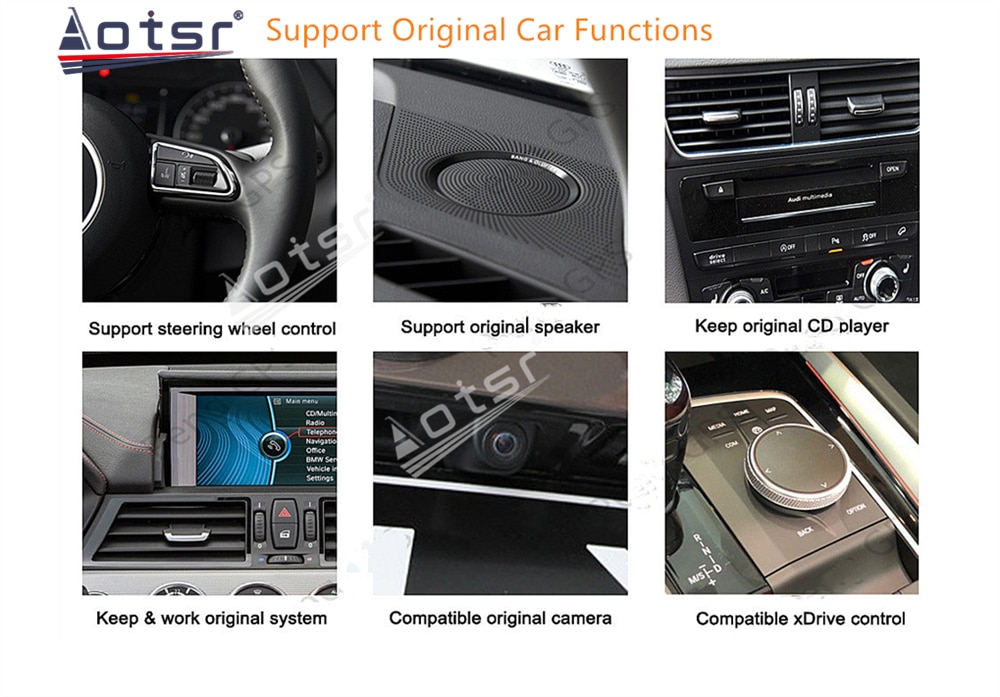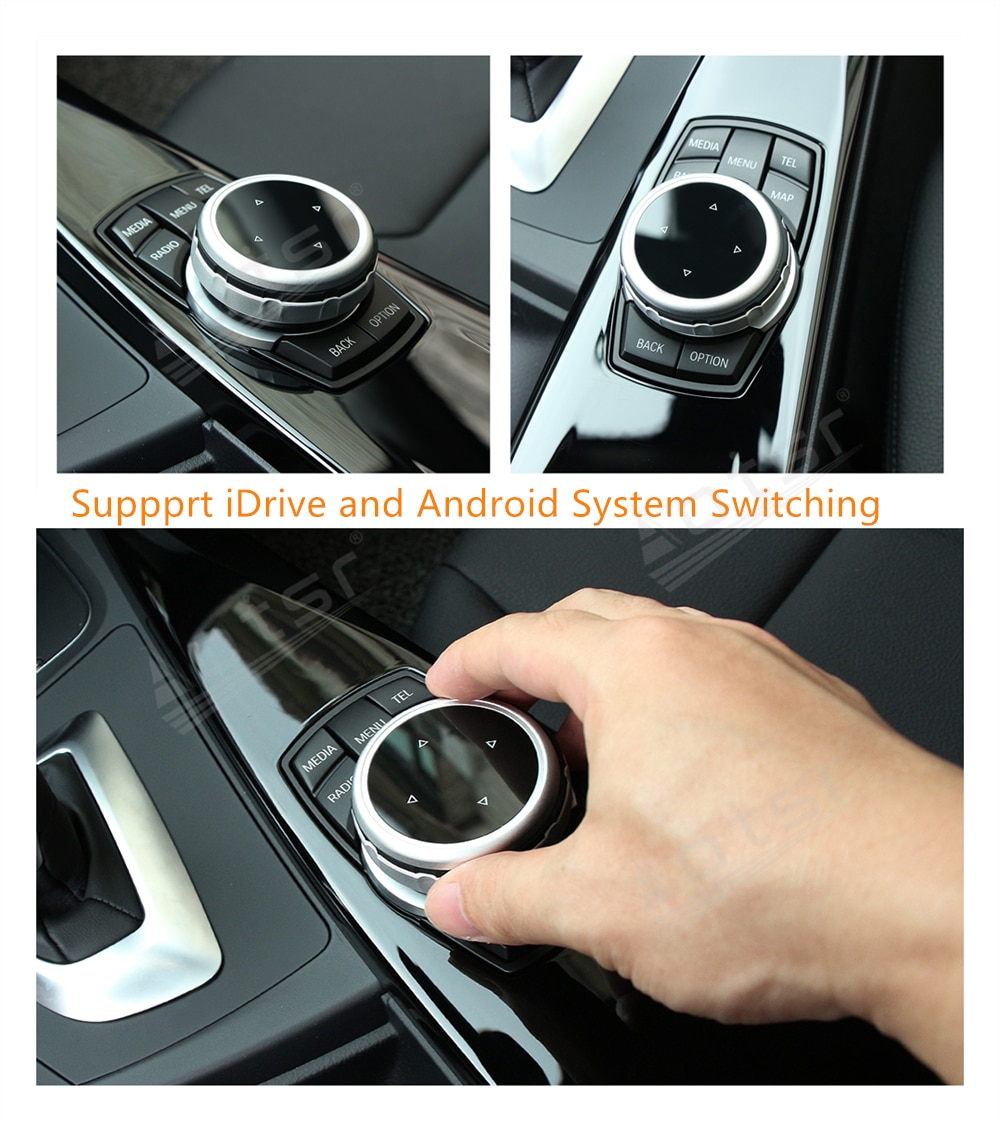 Features:
1.Buit-in carplay 2.Google maps 3.Google play 4.Support 4G LTE 5.360 Camera (optinal) 6.Bluetooth 5.0 Lossless Sound Quality 7.Multi-screen Interaction 8.Mirror link 9.Support radio tuner 10.P60 11.High resolution 12.6GB RAM 13.Multiple language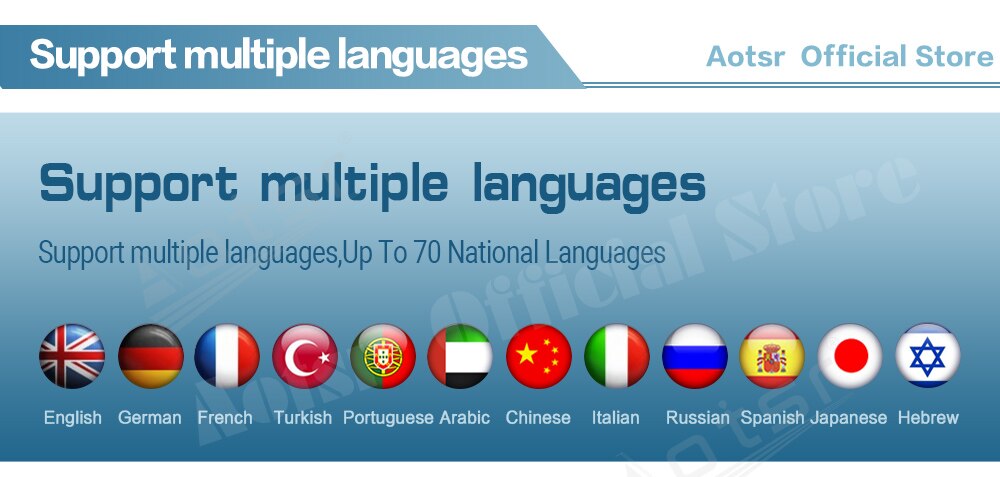 About the installation
It's a plug-and-play installation, but we recommend that you find a local professional installation engineer or a car A&V store to install our equipment in your car so you can avoid damaging your dashboard and the host itself. Of course, if you need any support, you are free to contact us. If you are not sure if it is suitable for your car, please leave your car details. If your car dashboard is the same as in the image below, you can purchase this modle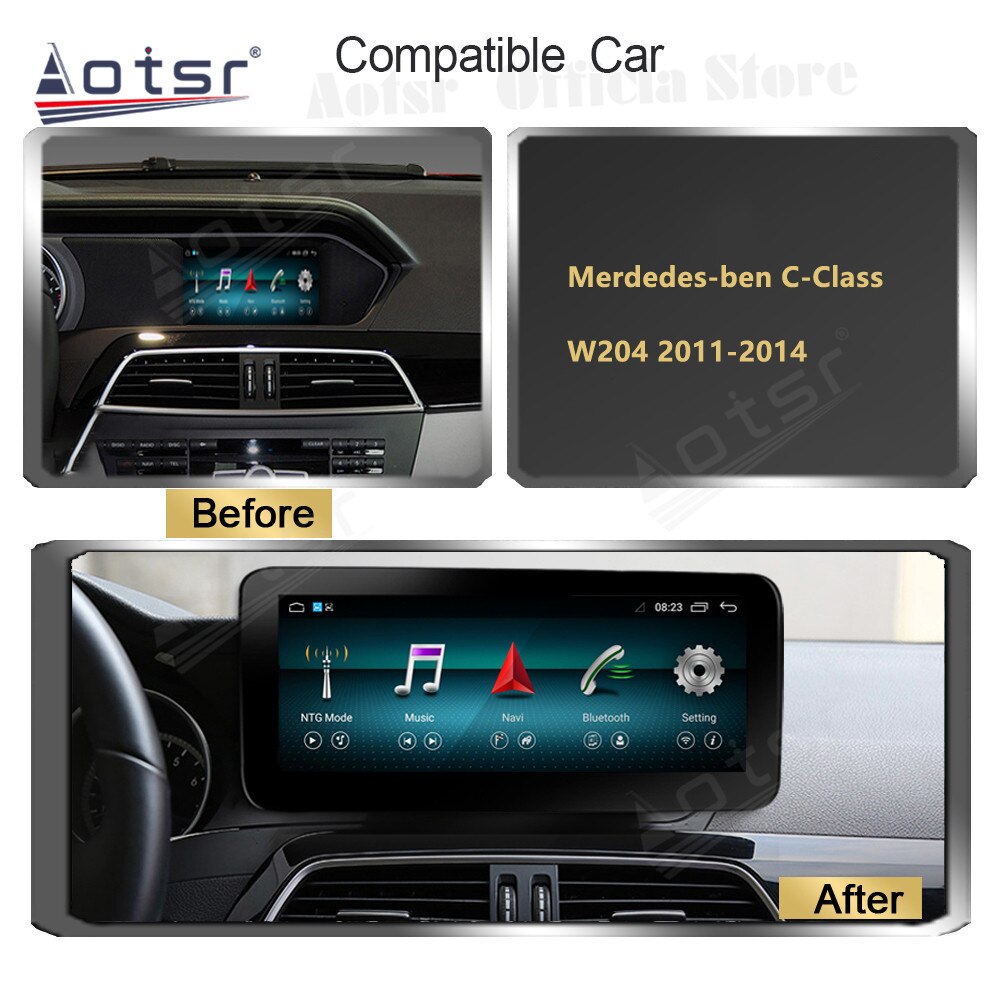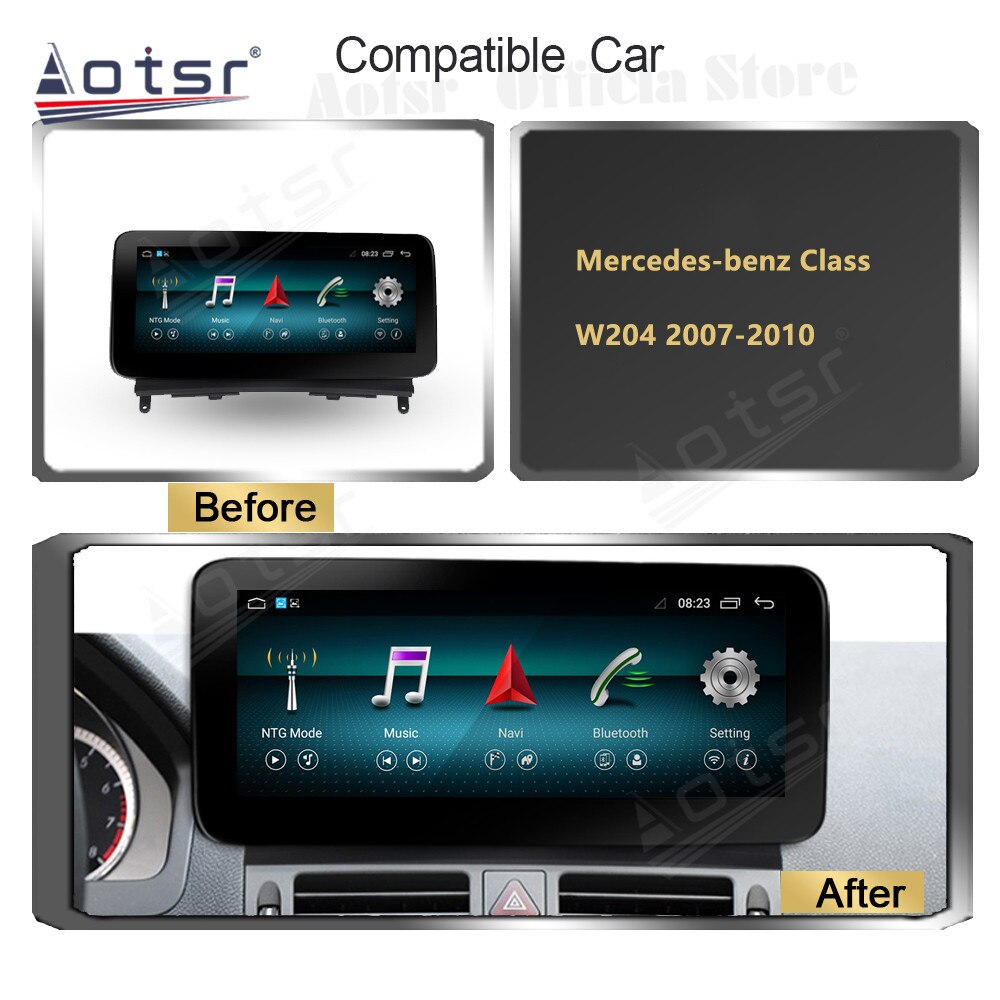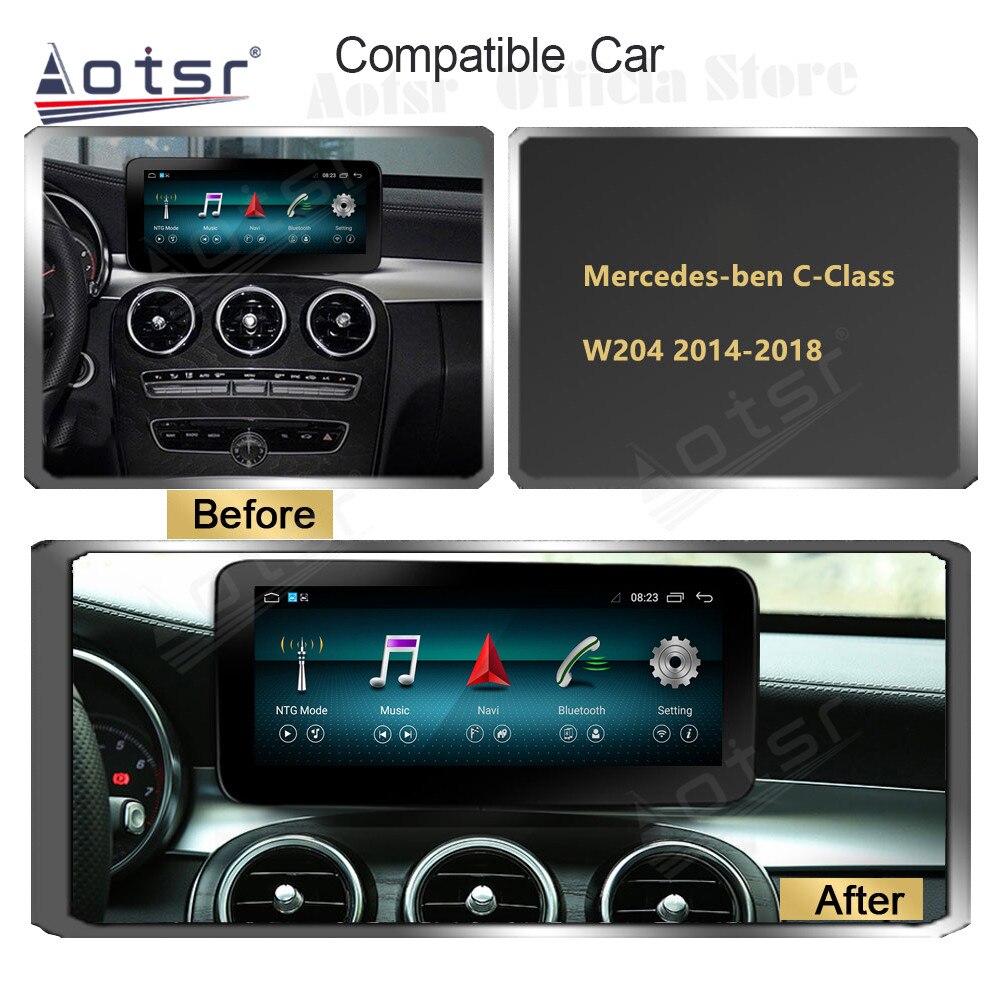 Products show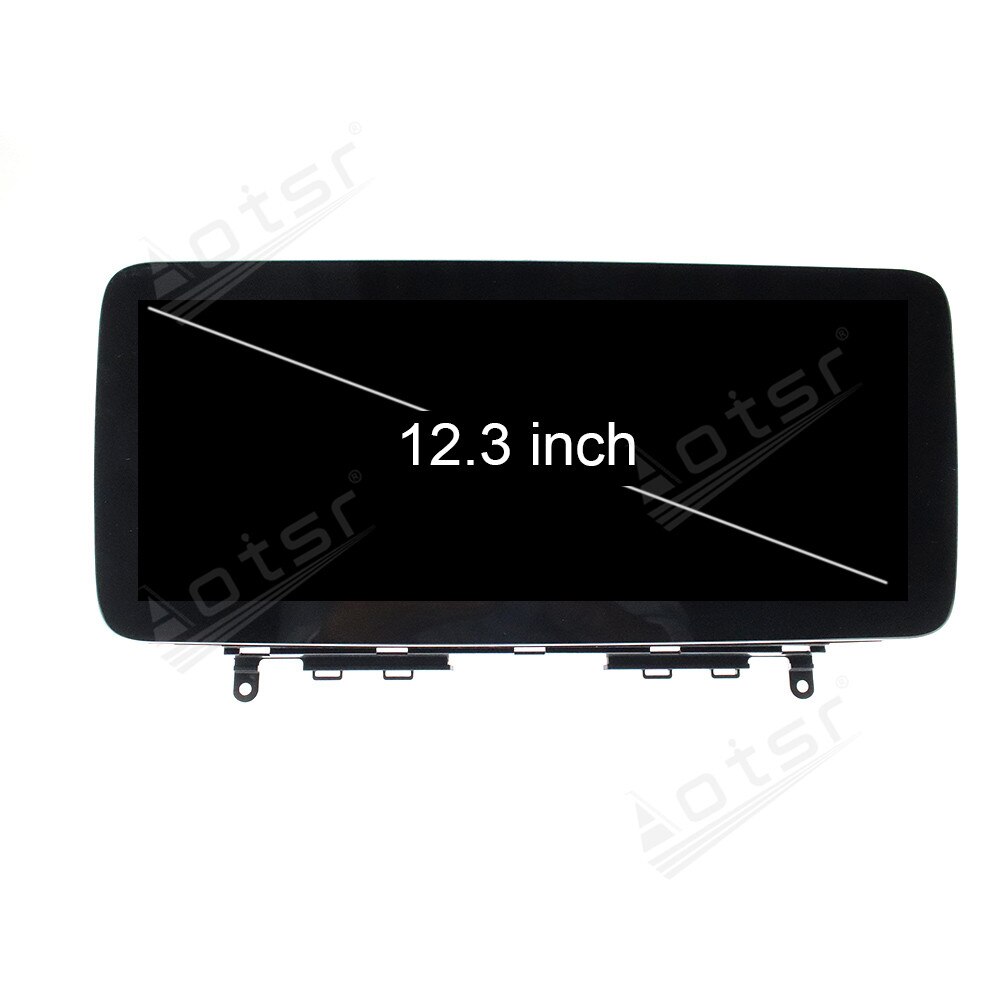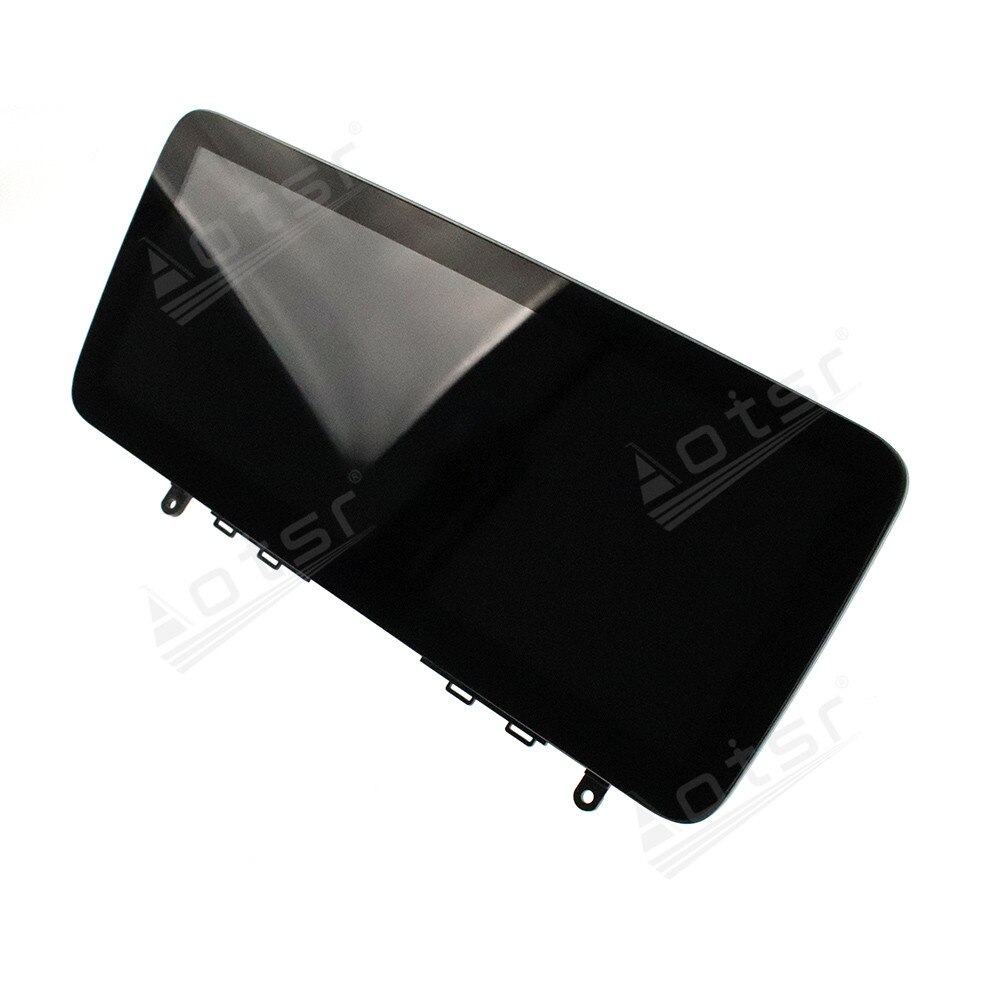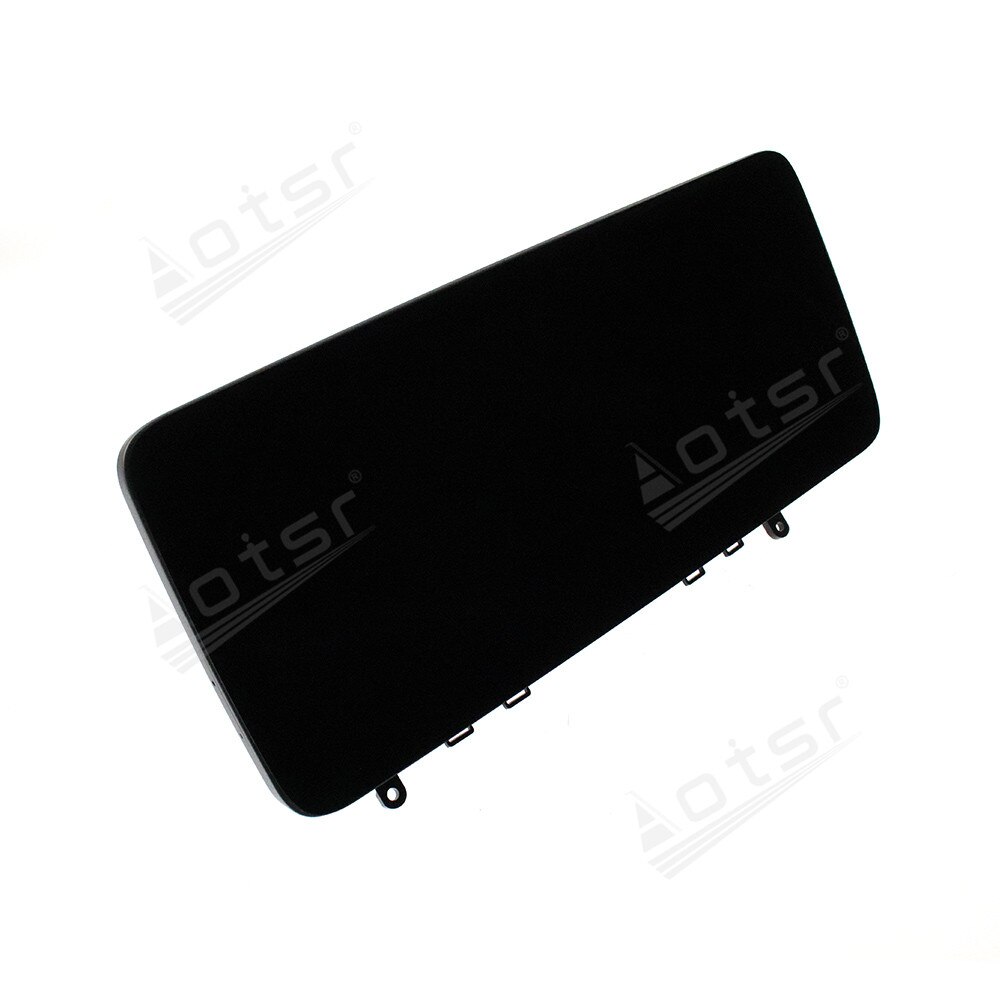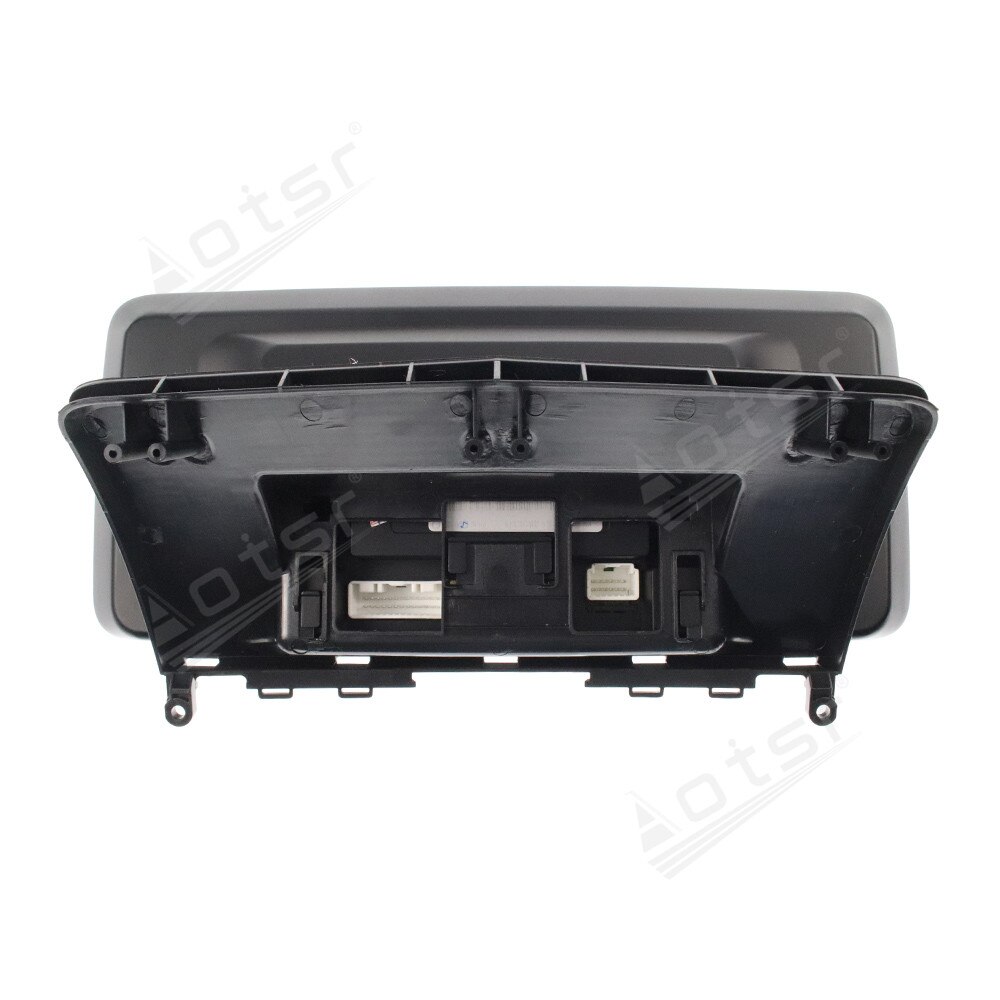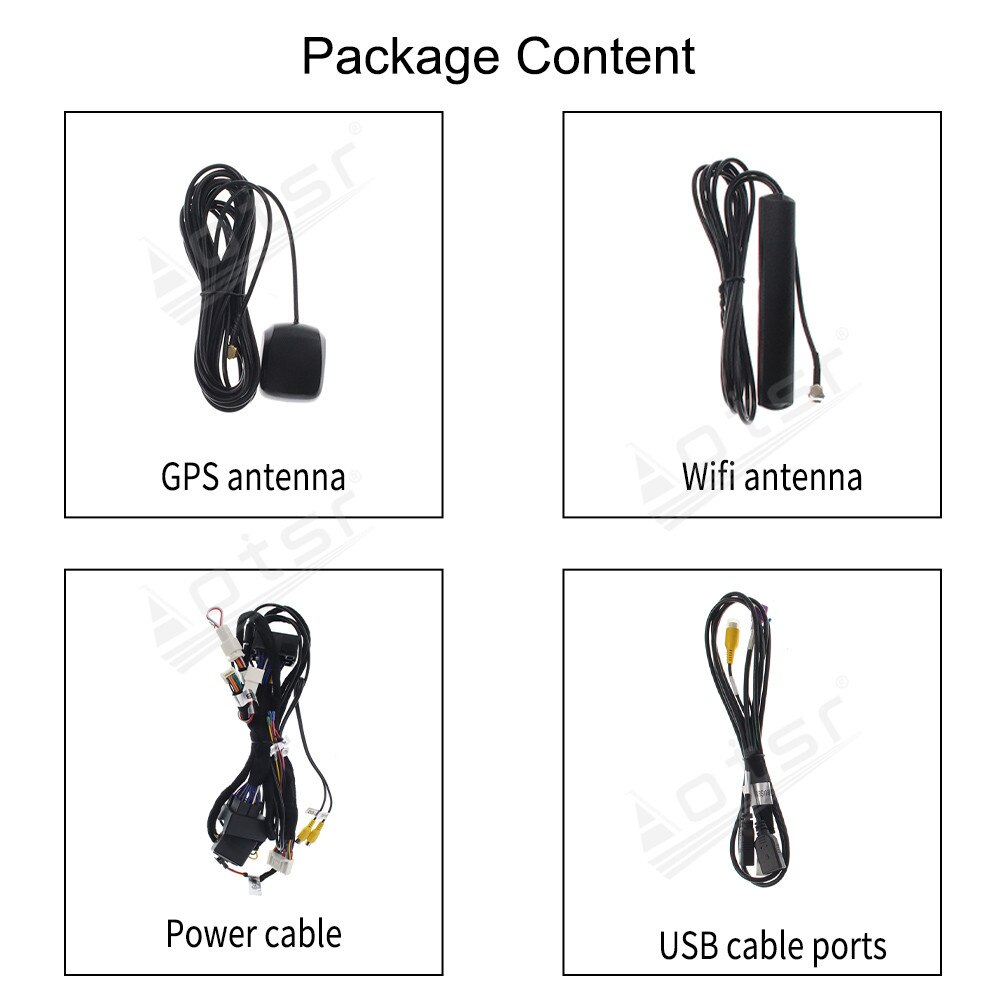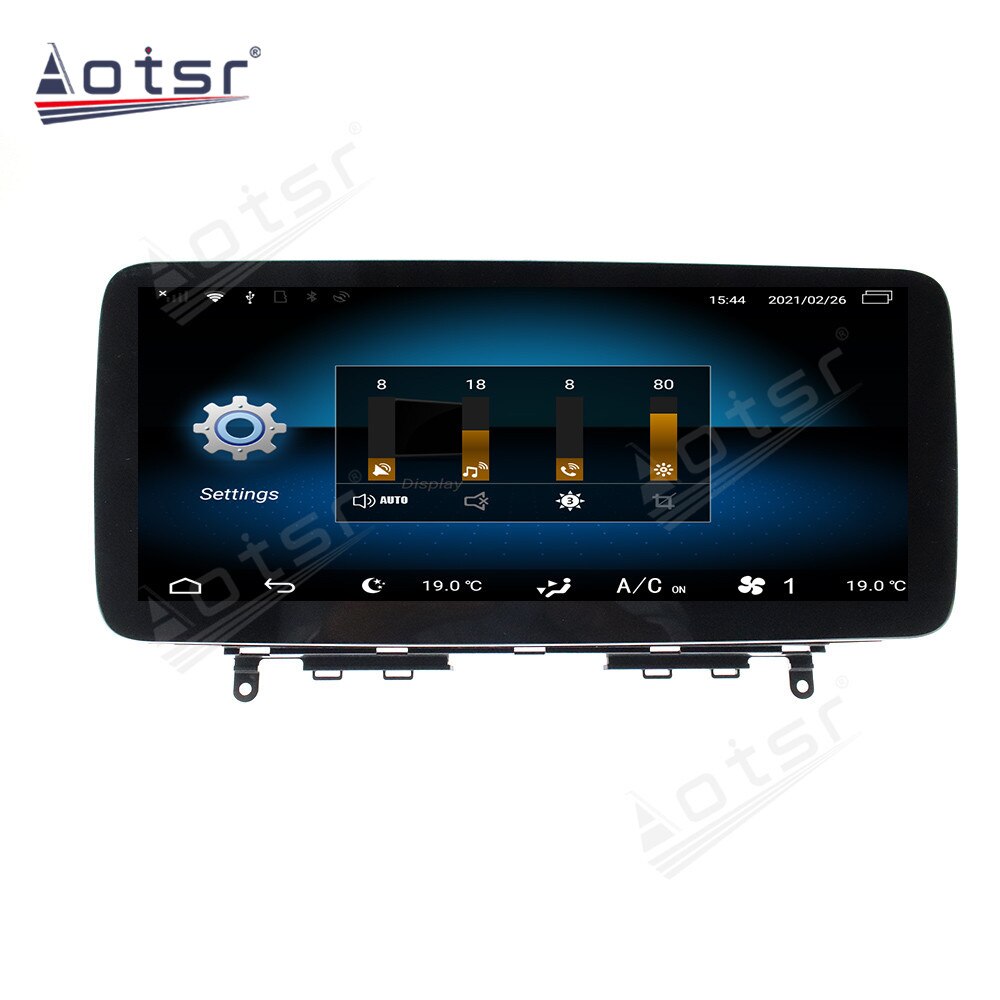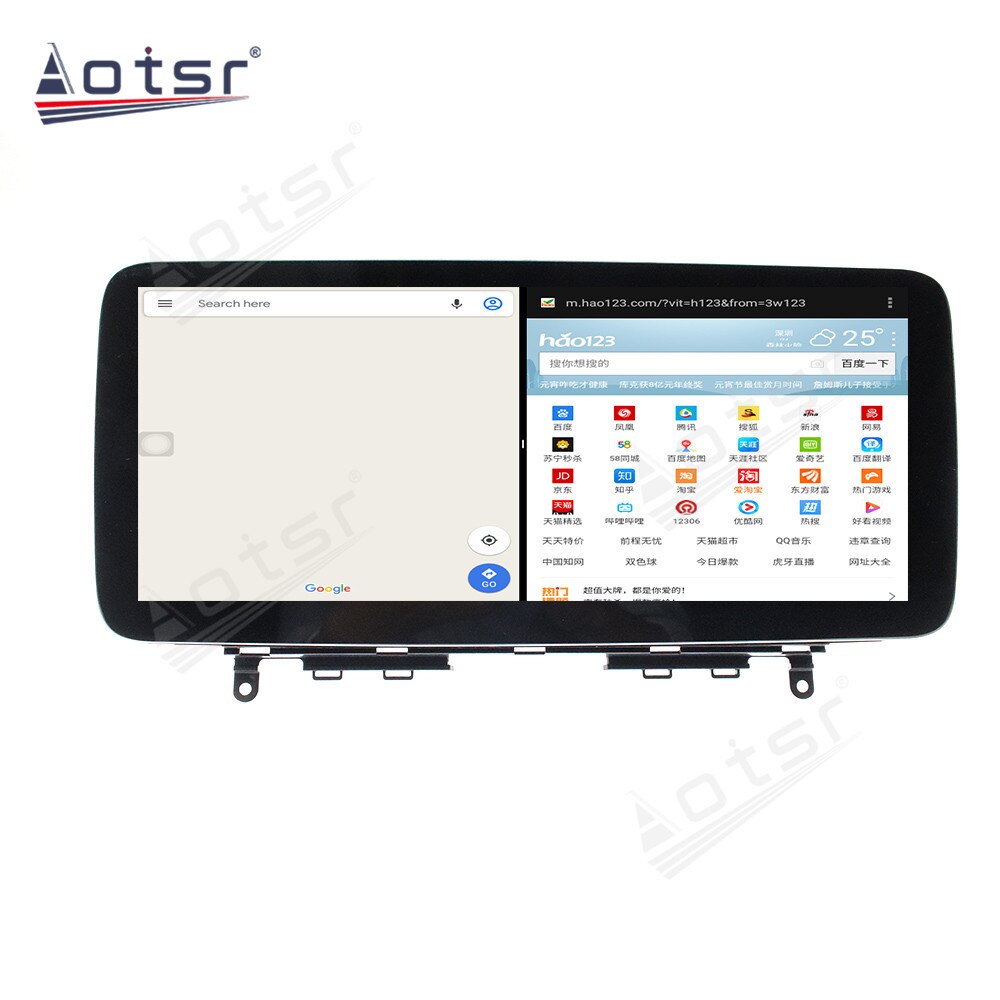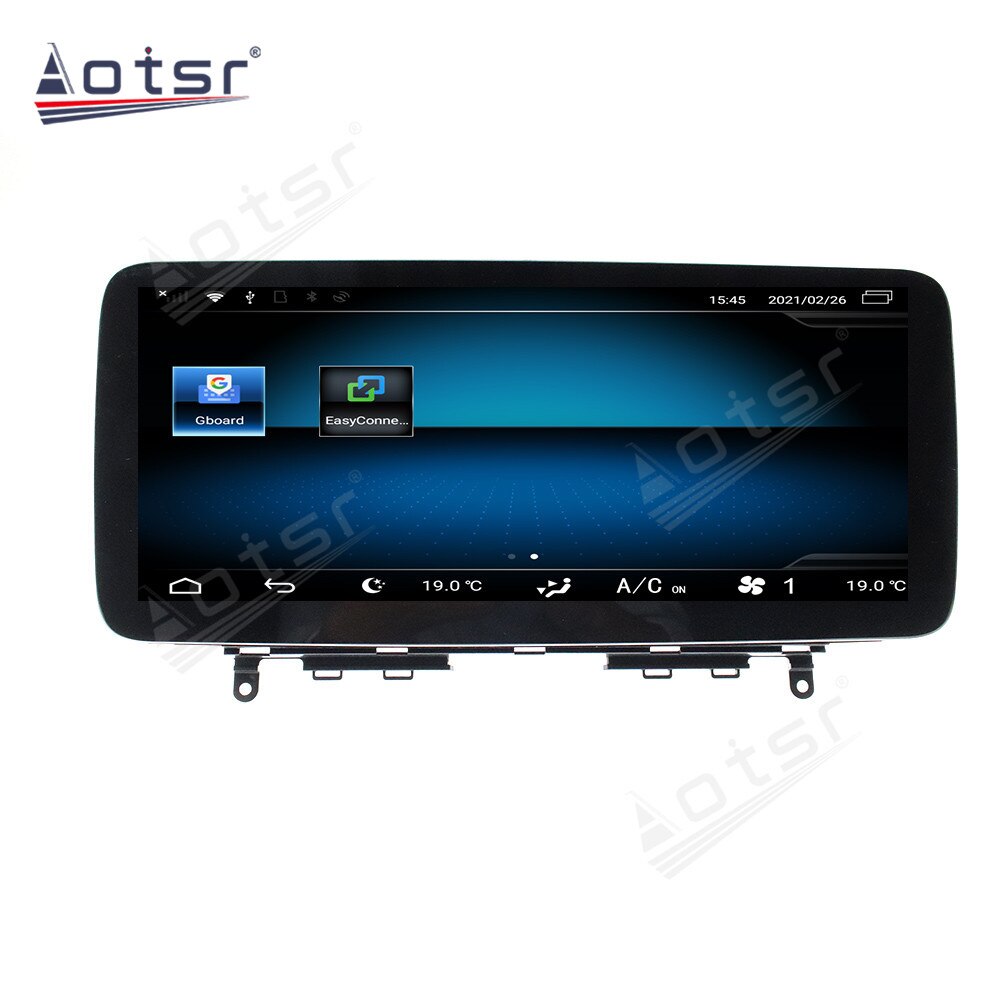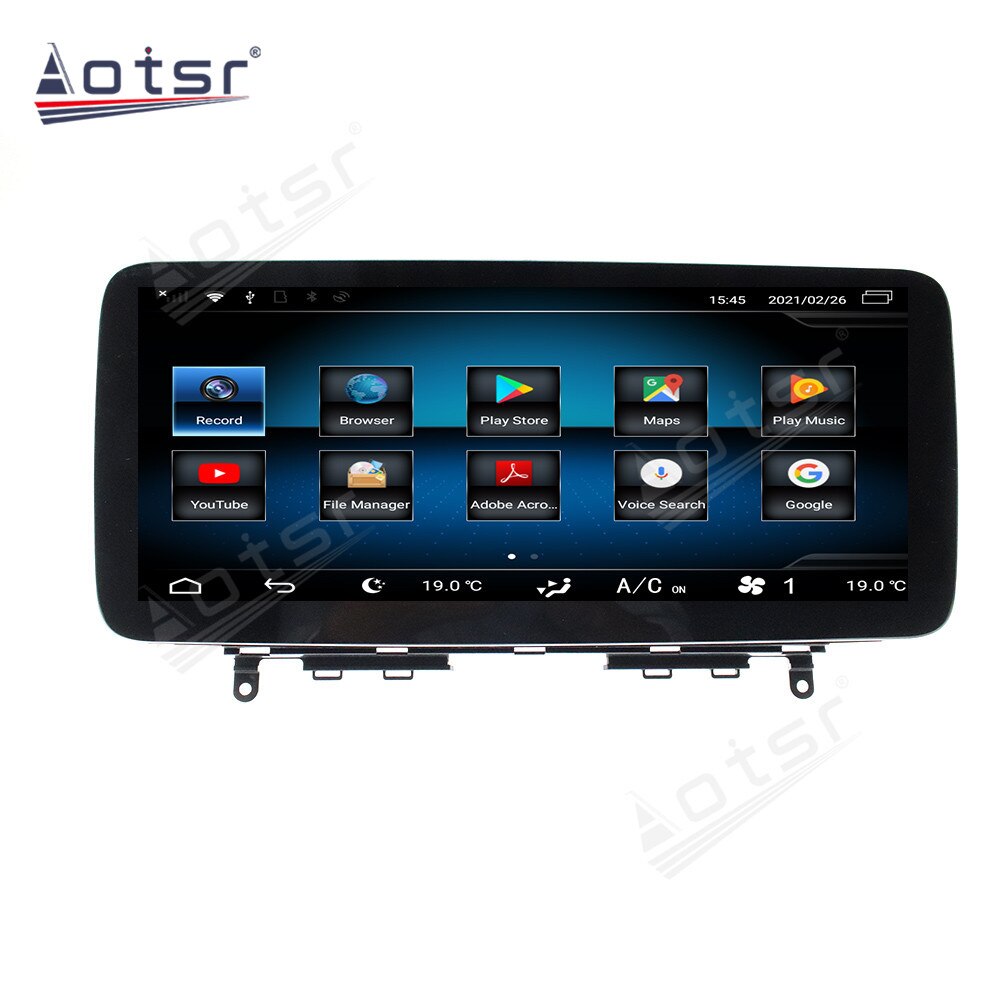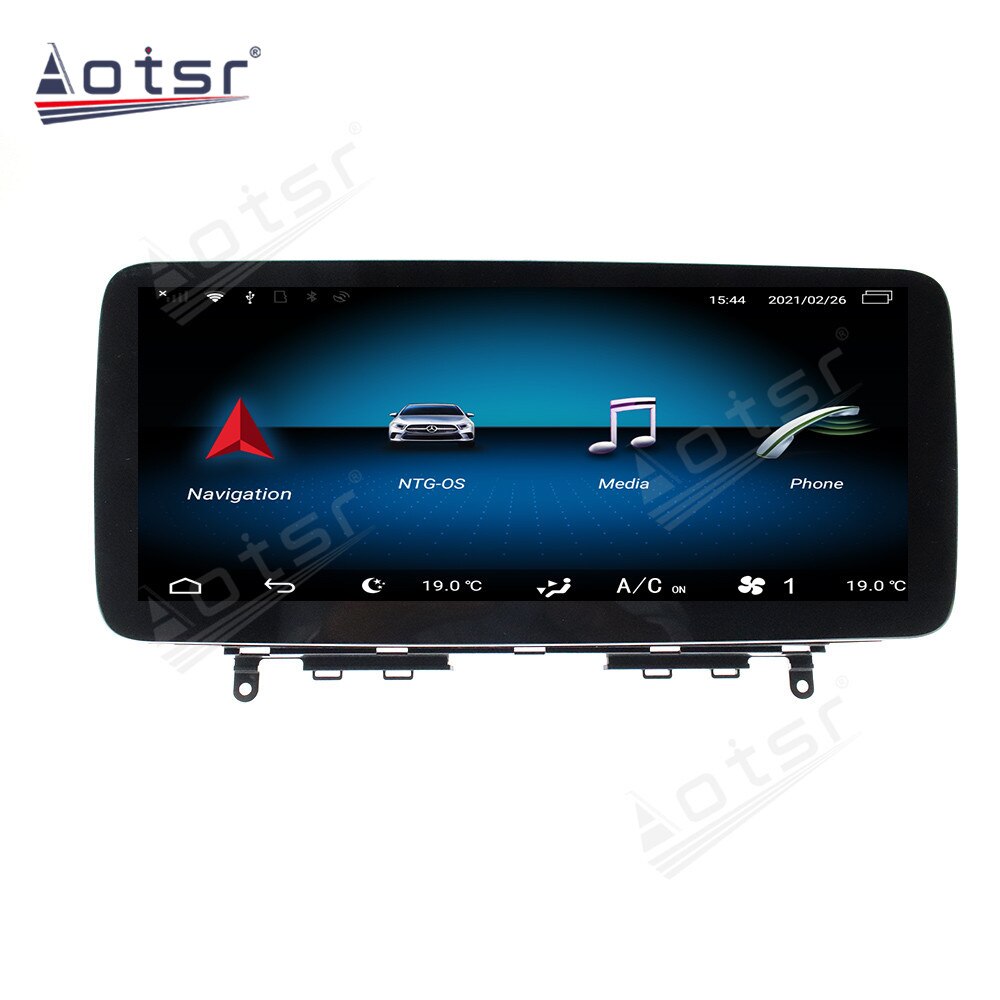 Before place order , please make sure your car is NTG system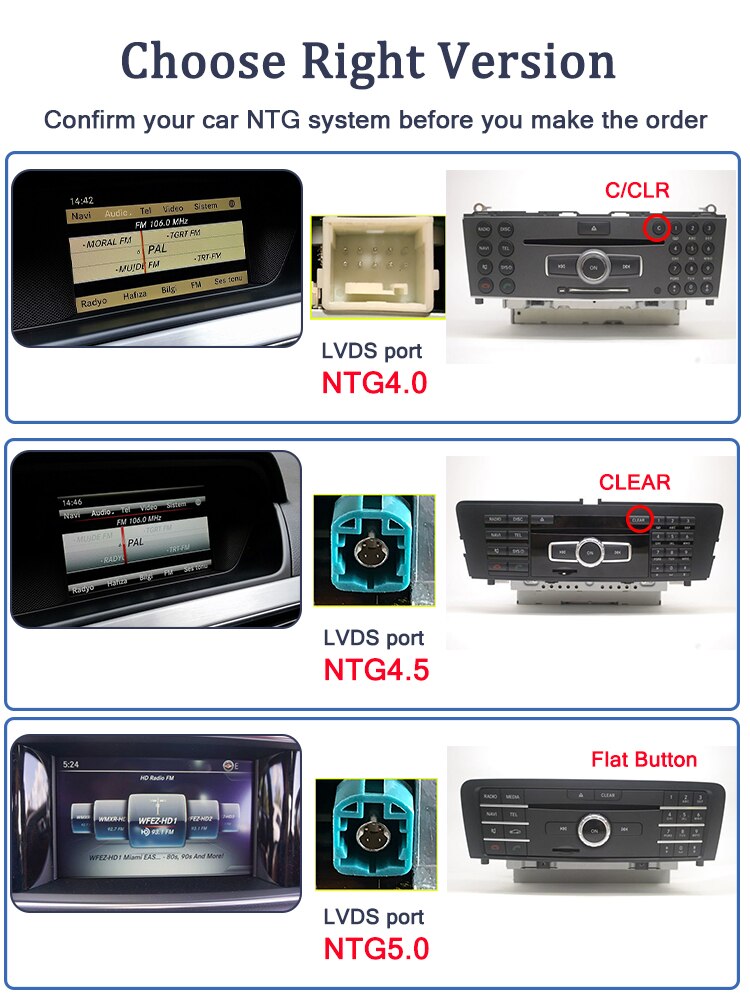 FAQ
Question A Does the steering wheeling control still works on this new radio? yes, of course,it still works perfectly . Question B Does it support my original car info? yes ,it also support the Fans information,door information,the TPMS,speed info and RAM ,ect. Question C Do I need frame to install it? No, The head unit is totally designed according to the original factory head unit panel, it will fit your car seamlessly and perfectly, no need to cut the dashboard and no need any frame. Question D why we ask client the car dashboard to check (old radio)? We need check if the frame fits for your car , and we have our own factory and professional team. We not only sell high quality products, but also provide the best after sale service. Our company's tenet is "enjoy your car life" Question E How about the after sale service? Our products have 3 years free guarantee, and any question, you can ask us ,we have professional engineer team to help you
What can Carplay Do?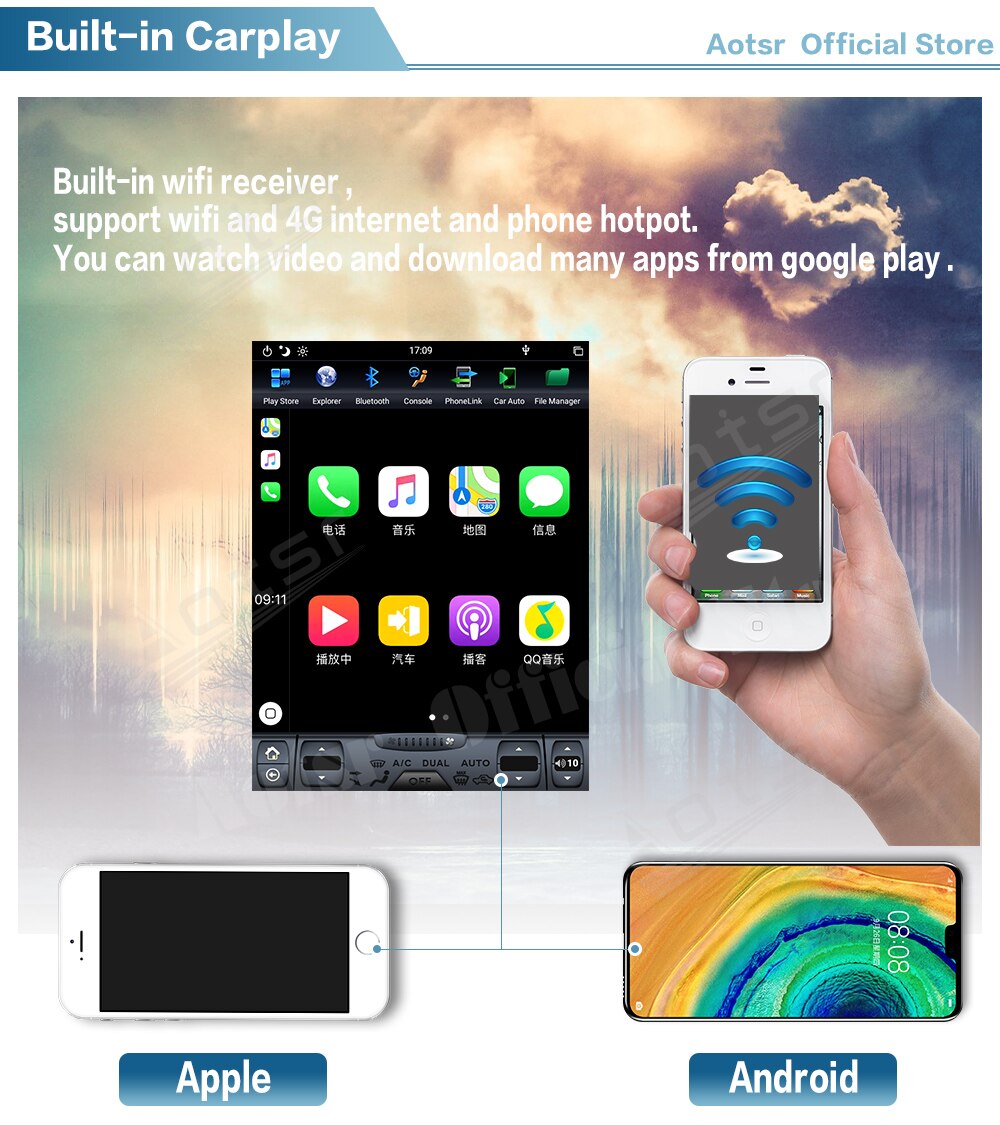 1:Siri :You can communicate with the car through Siri,tell the car what to do next,listen to the system broadcast the information received on the mobile phone,and use voice dictation to respond. 2:Touch Screen Display : A Car that partially supports CarPlay will be equipped with a touch screen that can turn on or off applications on a fairly simple home screen. 3:Physical Keys:Cars with physical keys is one of the ways to control CarPlay ,volume control and track change control are seamlessly integrated.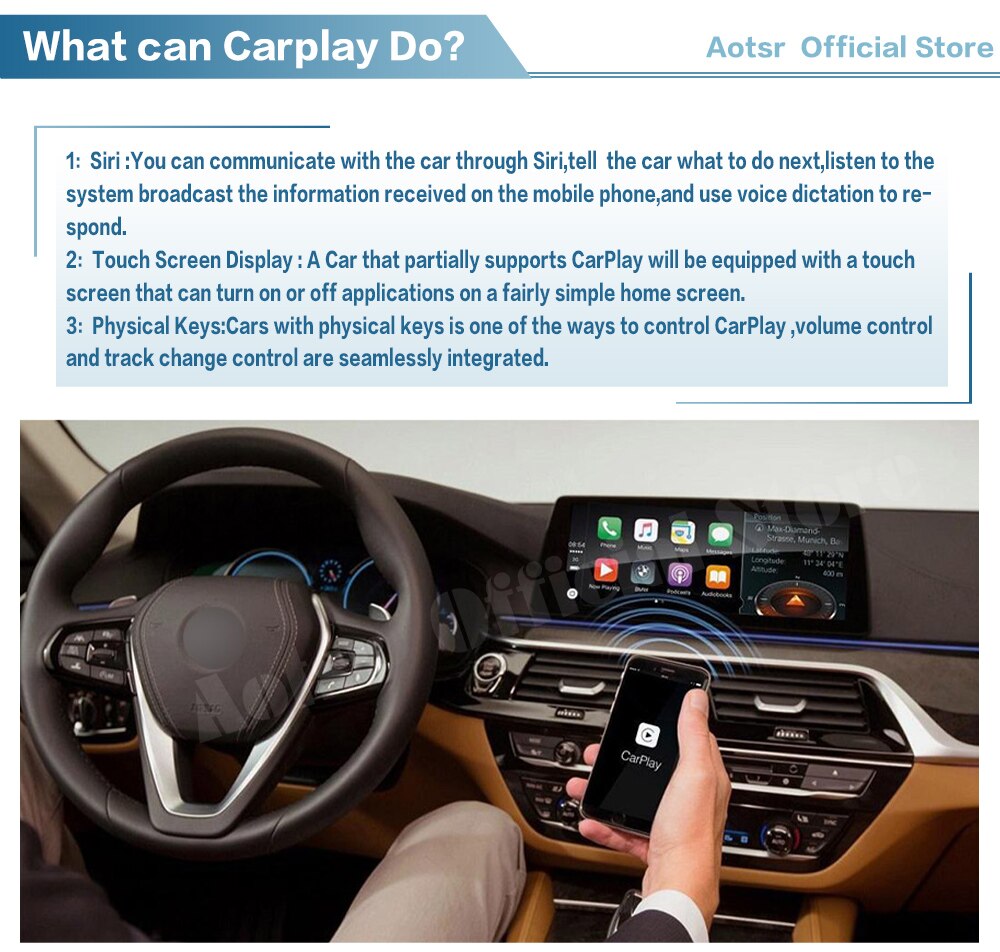 Radio Chip NXP6686
Pre-set Stations FM 3*6 AM 2*6 FM/AM Frequency FM:65MHz - 74MHz 87.5MHz - 108MHz AM: 522KHz - 1710KHz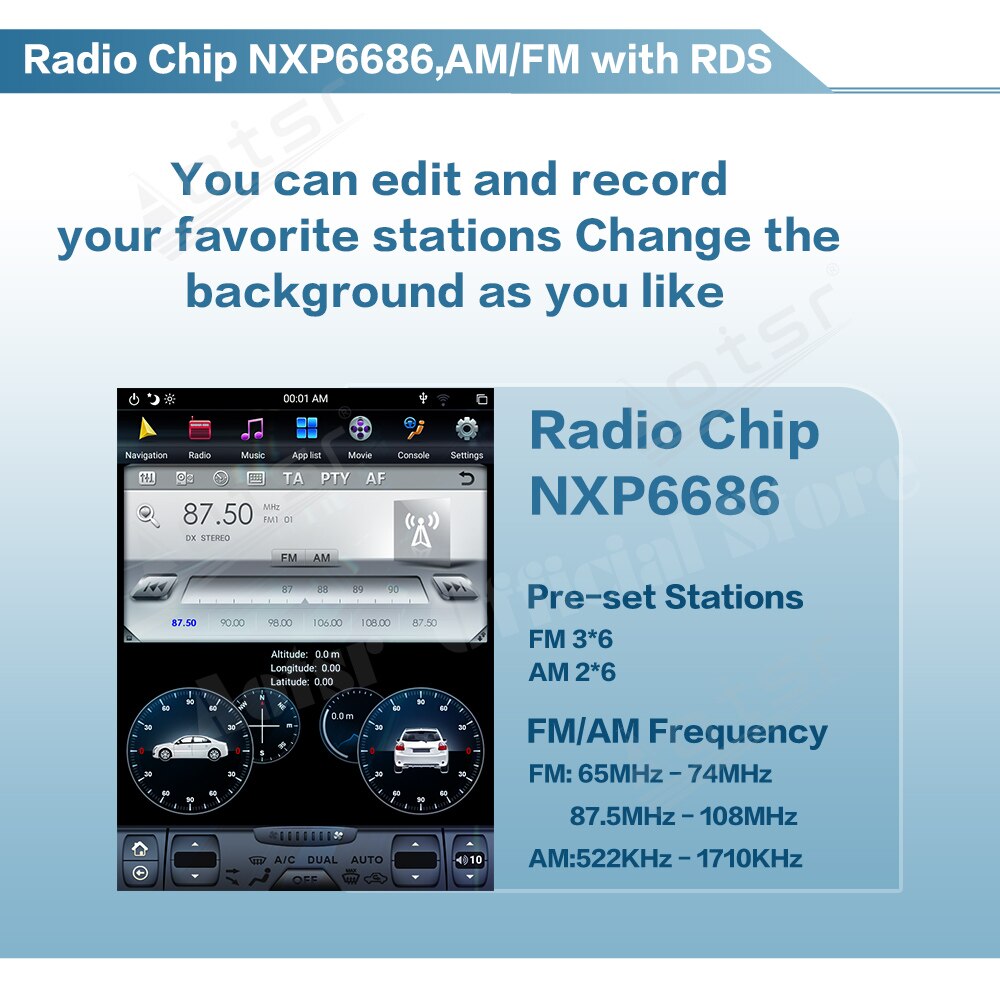 GPS Navigation
Support GPS off-line map, such as iGo ,online map and Google maps.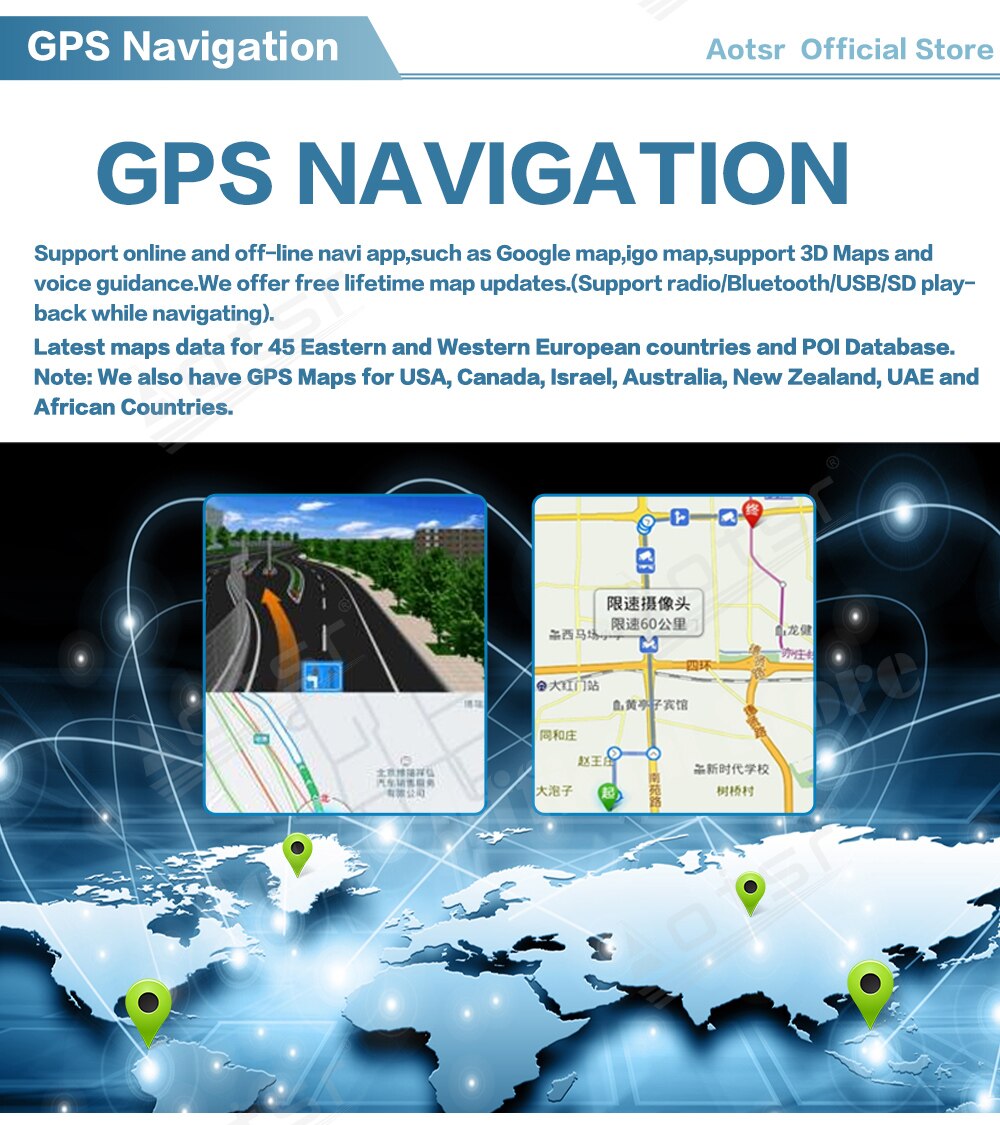 Mirror link
Support mirror link with android phone and iPhone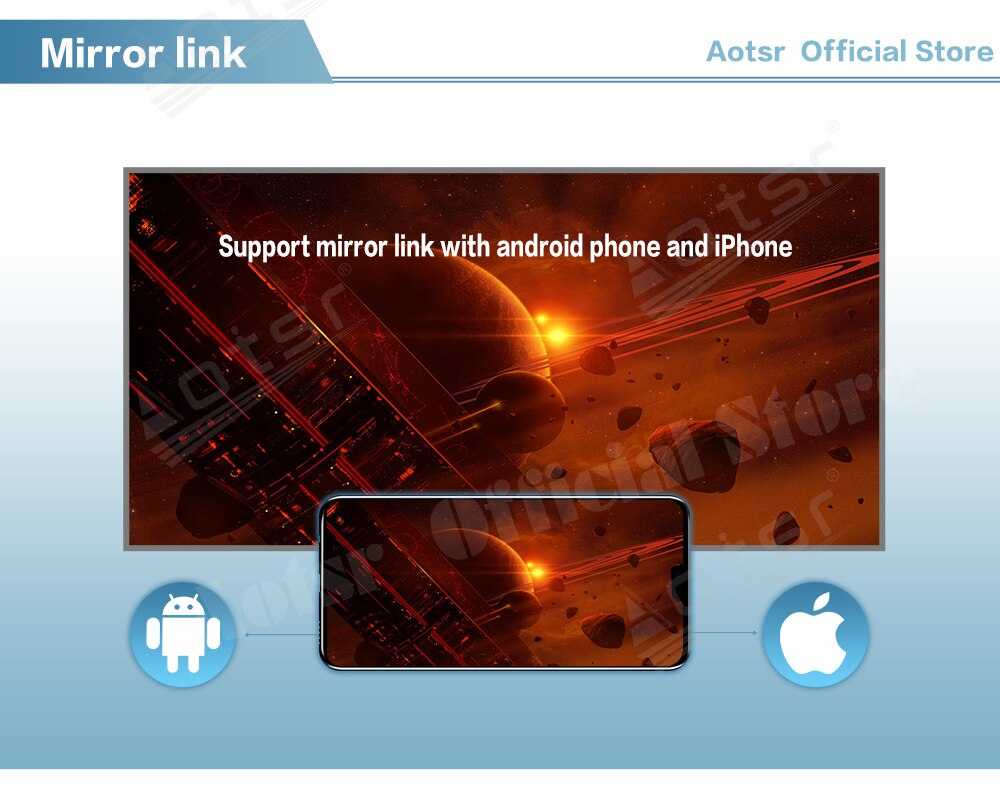 Video : support HD 1080P, 4K IPS Screen
Support 3D games , HD video ,1080P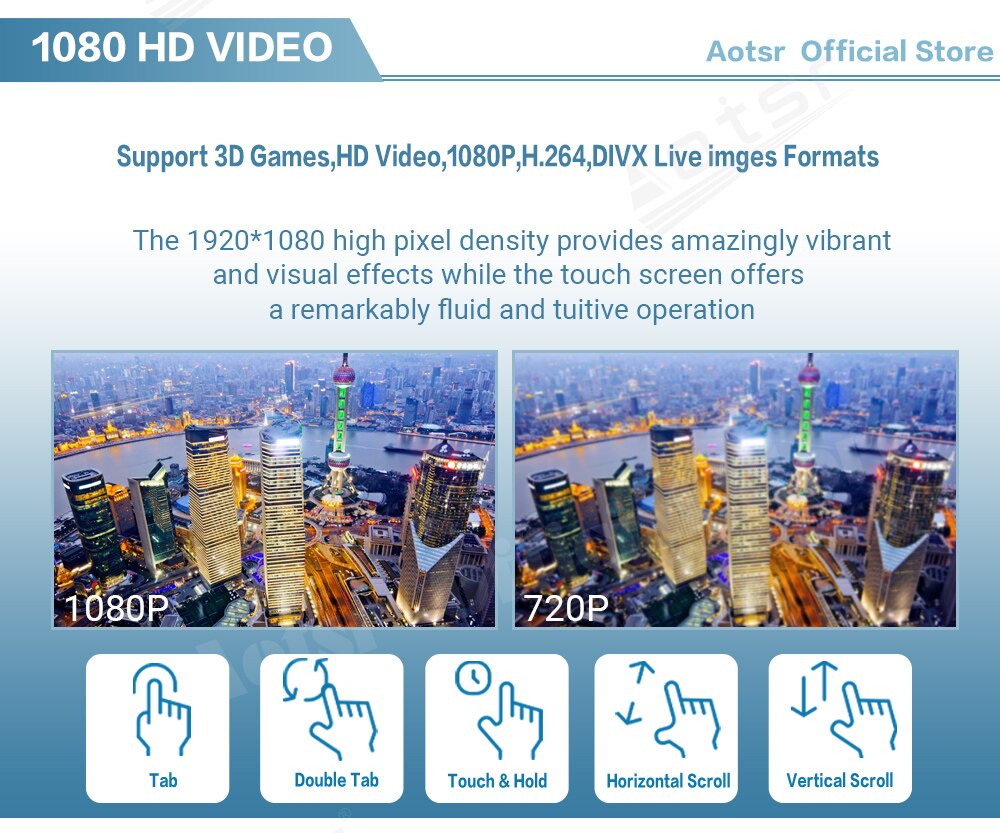 Lossless installation
1.Socket docking socket, no need to break the line, does not affeect the 4S shop after sale service. 2.The installation is very simple,just plug and play. Every plug is different , so just connect the plug to the radio unit and there are words besides the jack , to tell you which wire to connect to this jack, and each wire has lable to tell you what is this wire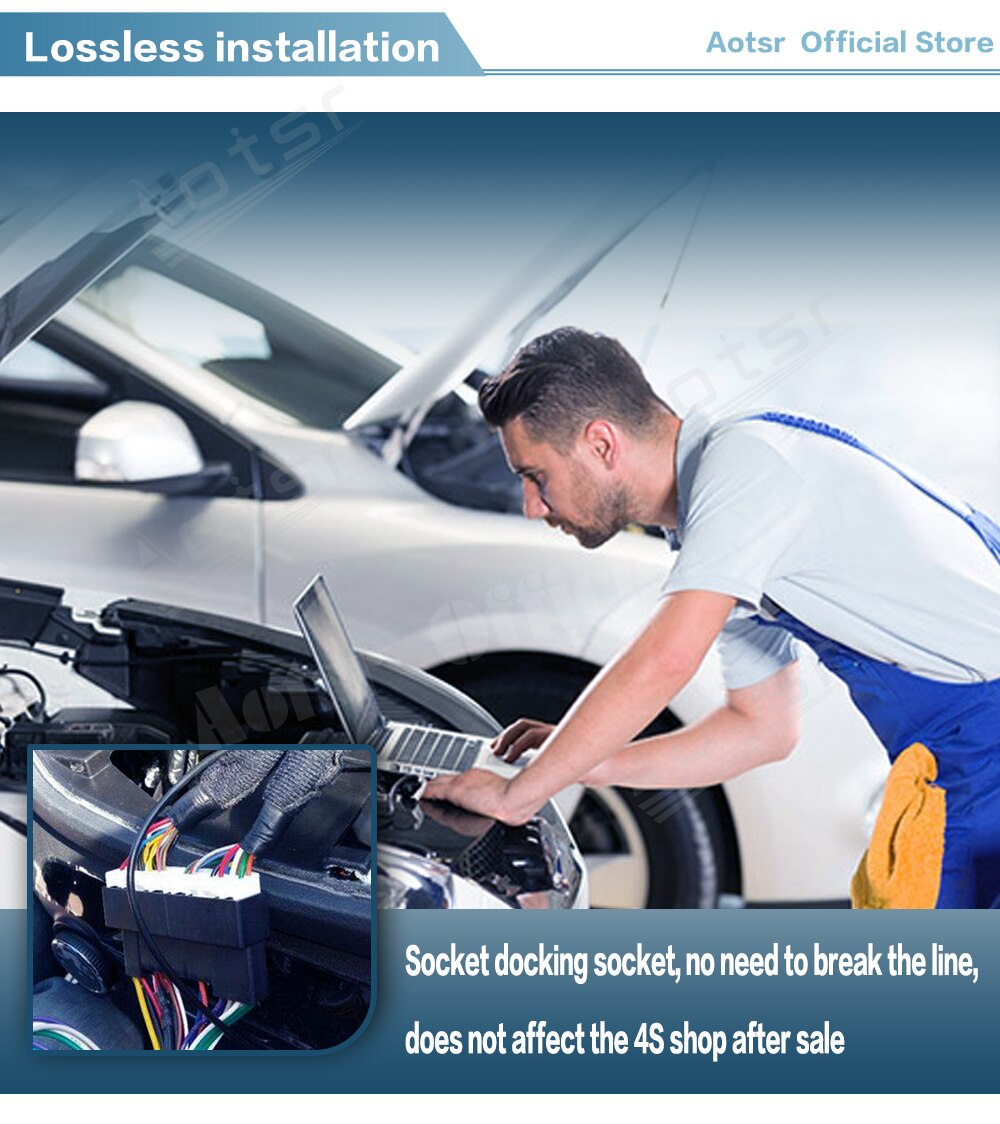 Bluetooth
Connect to your phone and make hands free calling/Bluetooth music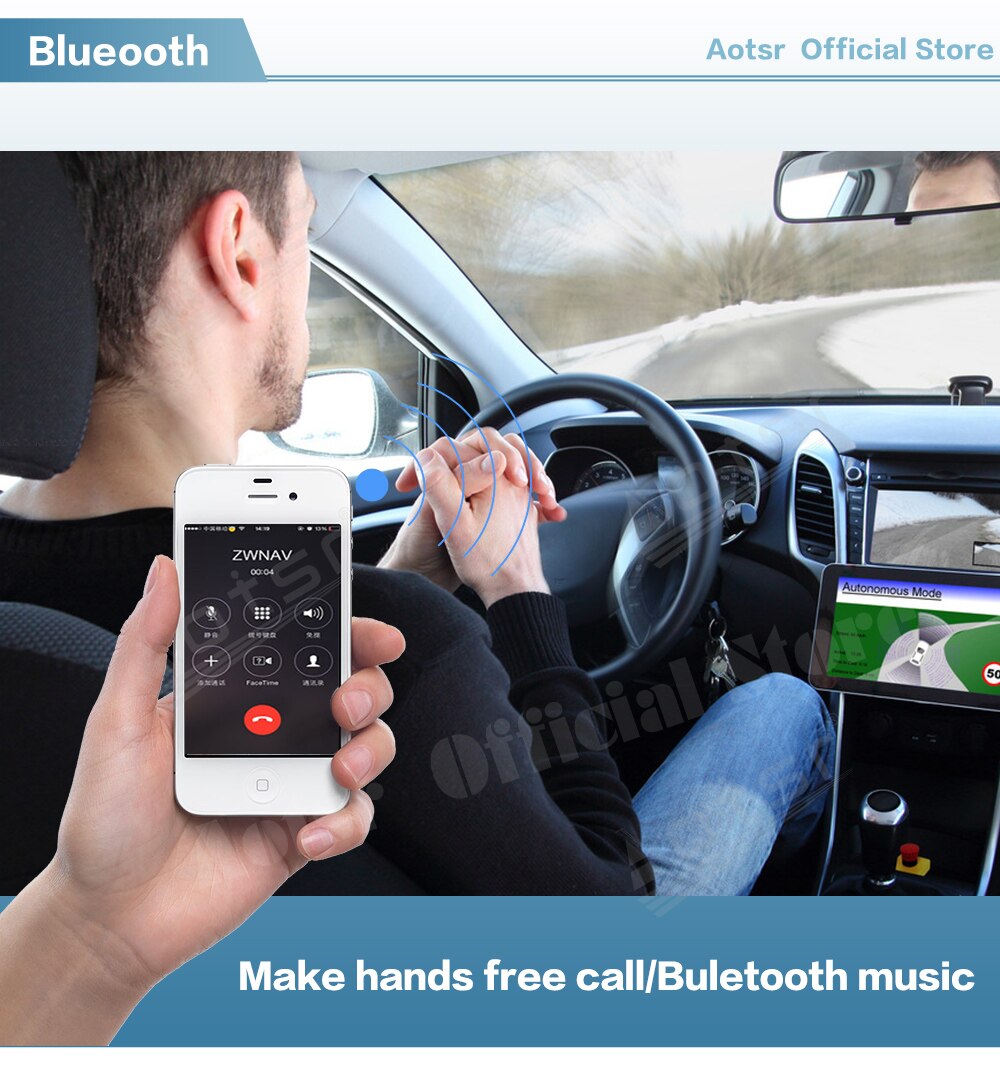 Internet
Built-in wifi receiver ,support wifi ,4G internet and phone hotpot.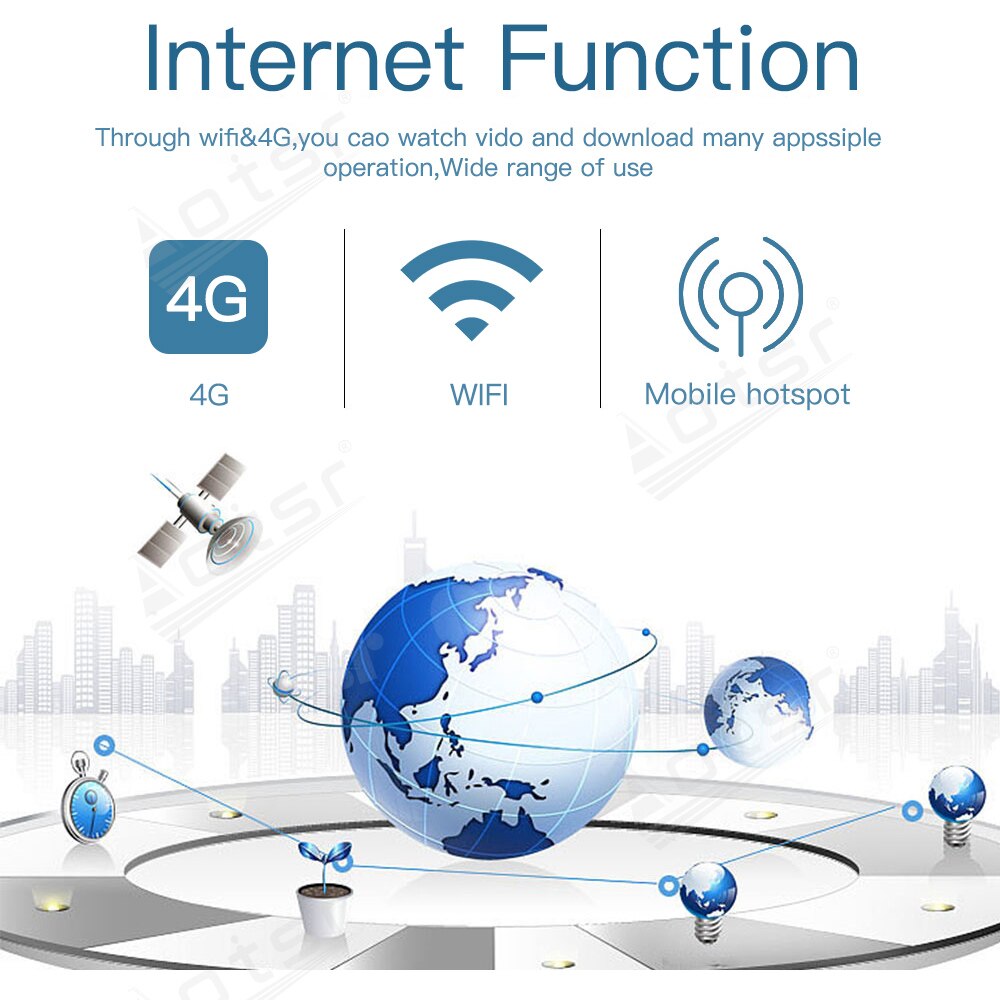 Accessories
You may like these accessories.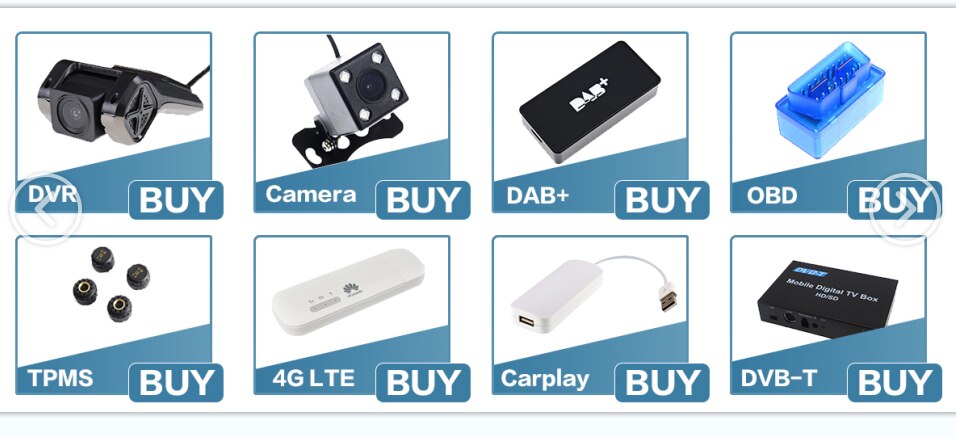 About us
Aotsr Official Store provide you best quality and best after service !